DEATH Coconut Milk Bath
Regular price

Sale price

$23.00
Our fiendishly favorite milk bath from last year returns from the grave but don't fear the Reaper! If you ever pull this card during a tarot reading, pass on the frights and let Grim here provide you a bath that'll have you feeling revitalized and ready to embrace some much needed growth and change. 🌿

Scent
This milk bath is a bouquet of indulgent jasmine and the comforting scents of ylang ylang flowers. Hints of water lilies and tonka join with creamy notes of vanilla and almond so relax, don't be afraid to take the plunge with the Reaper! 🖤
Crystal

How To Use

Ingredients
Hidden inside is a Larvikite crystal to keep you protected and grounded during spooky szn so you can slay the day away! This crystal also helps us see ourselves from a different perspective. Great for staying grounded and repels negativity. Also helps activate psychic abilities.
Open the bag and pour the magic directly under running hot water. Sit back and relax while the bubbles arise. Watch the colors blend together and swish the water around to see DEATH's full effect! 
• Net Wt. 13 oz Large bag (3-4 baths)
**All of our products contain herbs and essential oils. Please consult a physician before use if you are pregnant, breastfeeding, or suffering from a health condition.** 
Sodium Bicarbonate,  Organic Citric Acid, Kaolin Clay, Coconut Milk Powder (contains zero milk protein = 100% Vegan), Sodium Lauryl Sulfoacetate, Hibiscus, Red 27, Blue 1, Yellow 10, Fragrance (Phthalate Free), Propylene Glycol, Fluorphogopite (Synthetic Mica)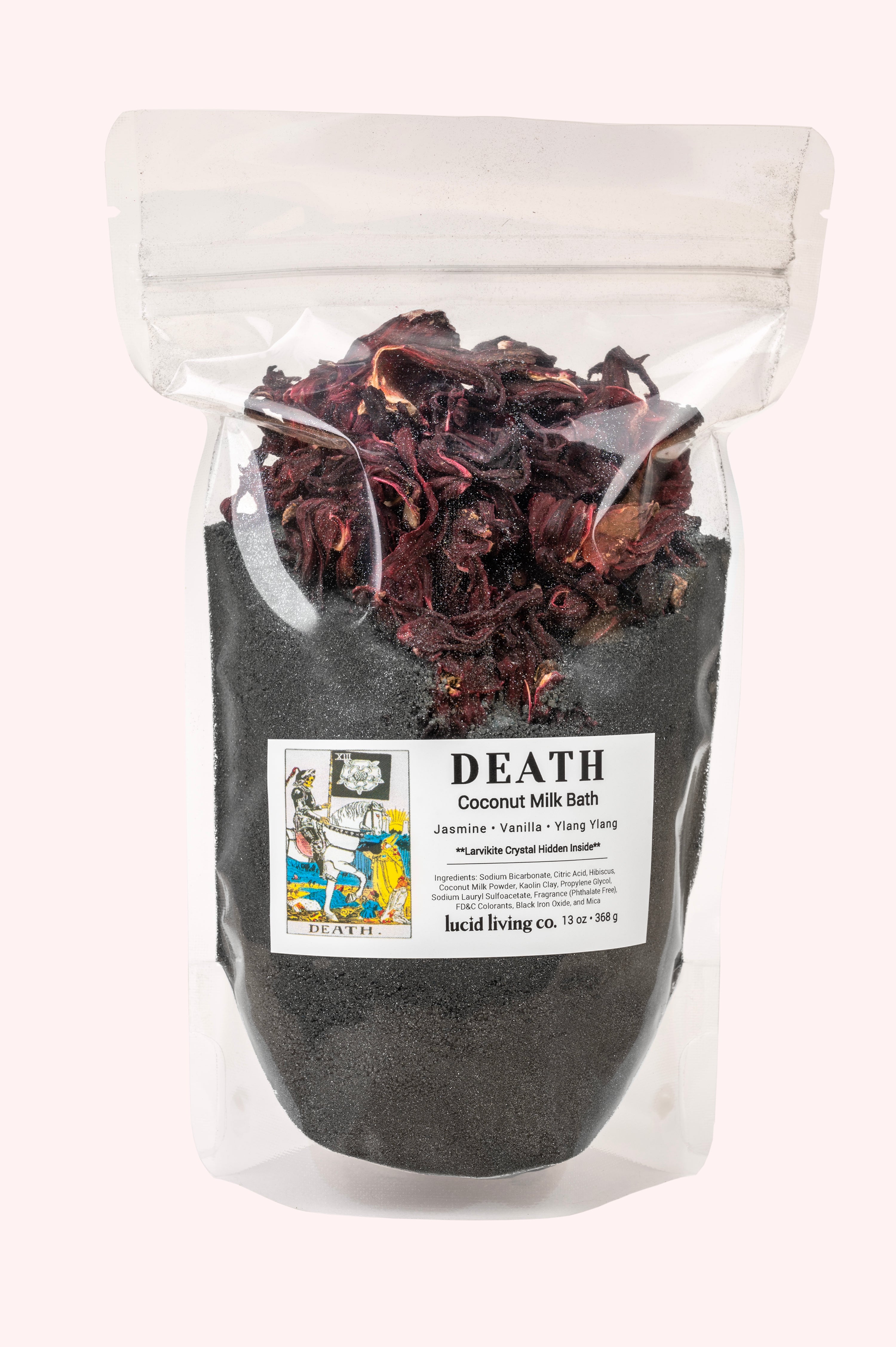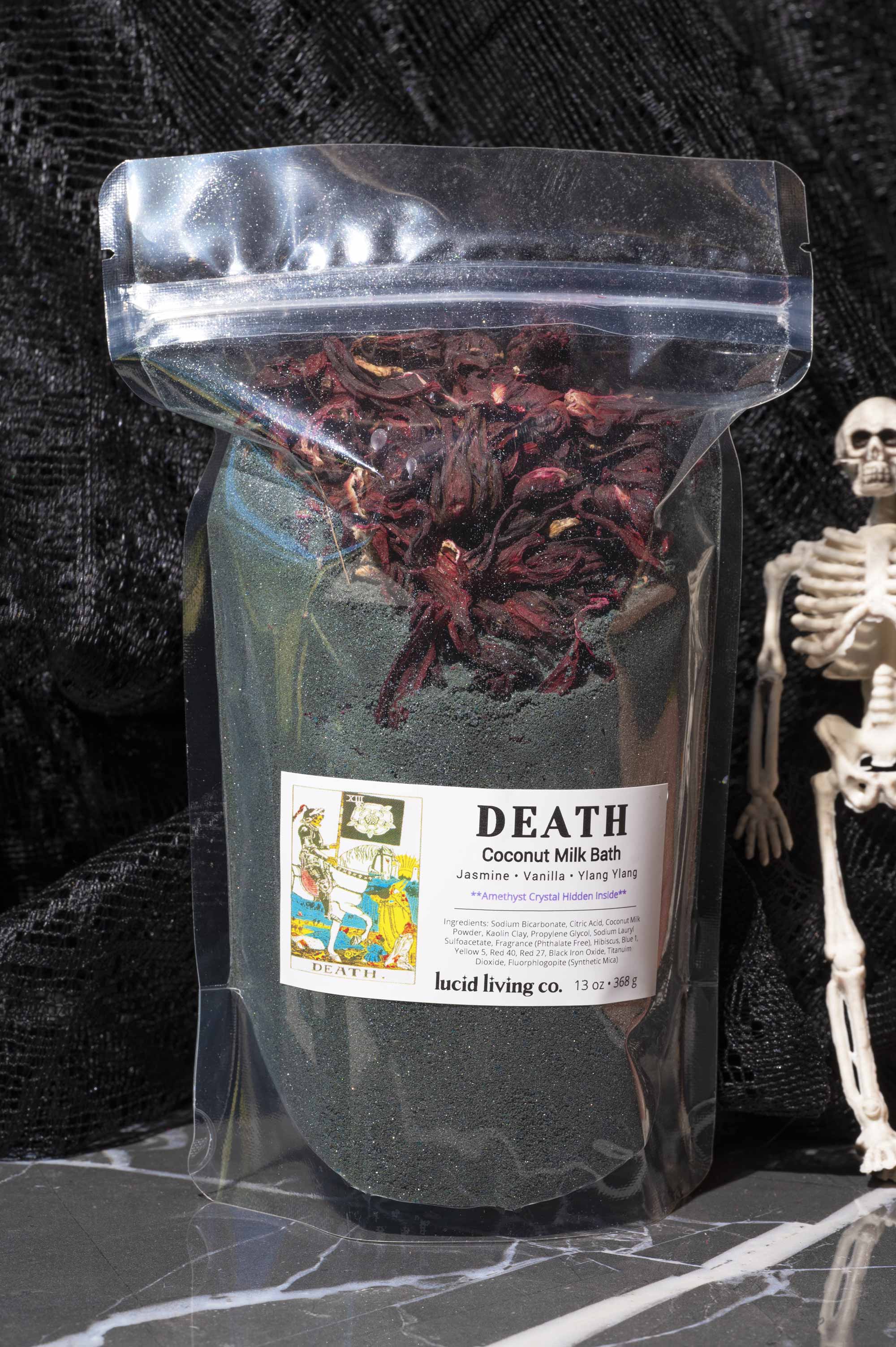 Absolutely love it
I am a Scorpio so I bought this one on using for my bday bath. Smelled amazing and would purchase again.
Death at it's finest
Death Coconut milk Bath brought me so much joy this new moon. I felt reborn again soaking in Death's aroma and felt revitalized after every soak. I love adding my mushroom oil to the soak too.
Delicate Death 🥀
Another beautiful addition to a Tarot-inspired bath. The jasmine, vanilla, and ylang ylang create a perfect combination to relax the mind, body, and soul and embrace all aspects of the dark and dismal with gorgeous glitter swirls.
Death 💀 🦂
Everything about this milk bath is perfect for those wishing to transform their life or wanting to draw in that Scorpio energy 🦂 I know my Scorpio moon was ecstatic and so relaxed while soaking in this. I was instantly in love with this one as soon as I opened the bag! Definitely on my list of favorites 🖤
🖤💀🤍
Was so pleasantly surprised that the water turns a lovely violent/black color, and the shimmer is out of this world! A little goes a long way with this one and truly nailed it with the scents ✨