Moon Glow + Amethyst Gua Sha Bundle
Regular price

$54.00

Sale price

$43.20
Let the moonlight renew your skin with our squalane oil serum, the ideal nighttime aid to treat tired and stressed skin so you can wake up feeling refreshed. The floral essence of calming lavender, geranium and rosehip oil will gently whisk the senses away as the powerhouse extracts of dragonfruit, agave, and papaya work to tighten the appearance of fine lines and leave your face softer for a new day.
This bundle includes (1) Moon Glow Face Oil Serum + (1) Amethyst Gua Sha 
Before using Gua Sha, wash your face then apply a few drops of Moon Glow Face Oil Serum. This will help the tool glide across the skin with ease, while helping the oil to absorb better.
Jawline and chin:

 

Glide your tool upwards from the center of the chin out to the earlobe to contour the jaw.
Forehead:

 

Start at the center of the forehead and divide your forehead into three sections and glide your tool outwards. Scrape once, then move down a bit and scrape again.
Cheek:

 

Start at the nose and work upwards in a sweeping motion along the cheeks and cheekbones, moving outwards toward your ears. Scrape once, then move down a bit and scrape again, move down a bit more to the center of the chin and scrape again.
Undereye:

 

Start in the inner corner of the eye and glide outwards to the temple.
Brows:

 

Glide upwards along the brow bone - going from the inside out.
Lips:

 

Glide over your lips back and forth about five times for a plumping effect.
Neck:

 

Section your neck into four areas and scrape each section from the bottom up.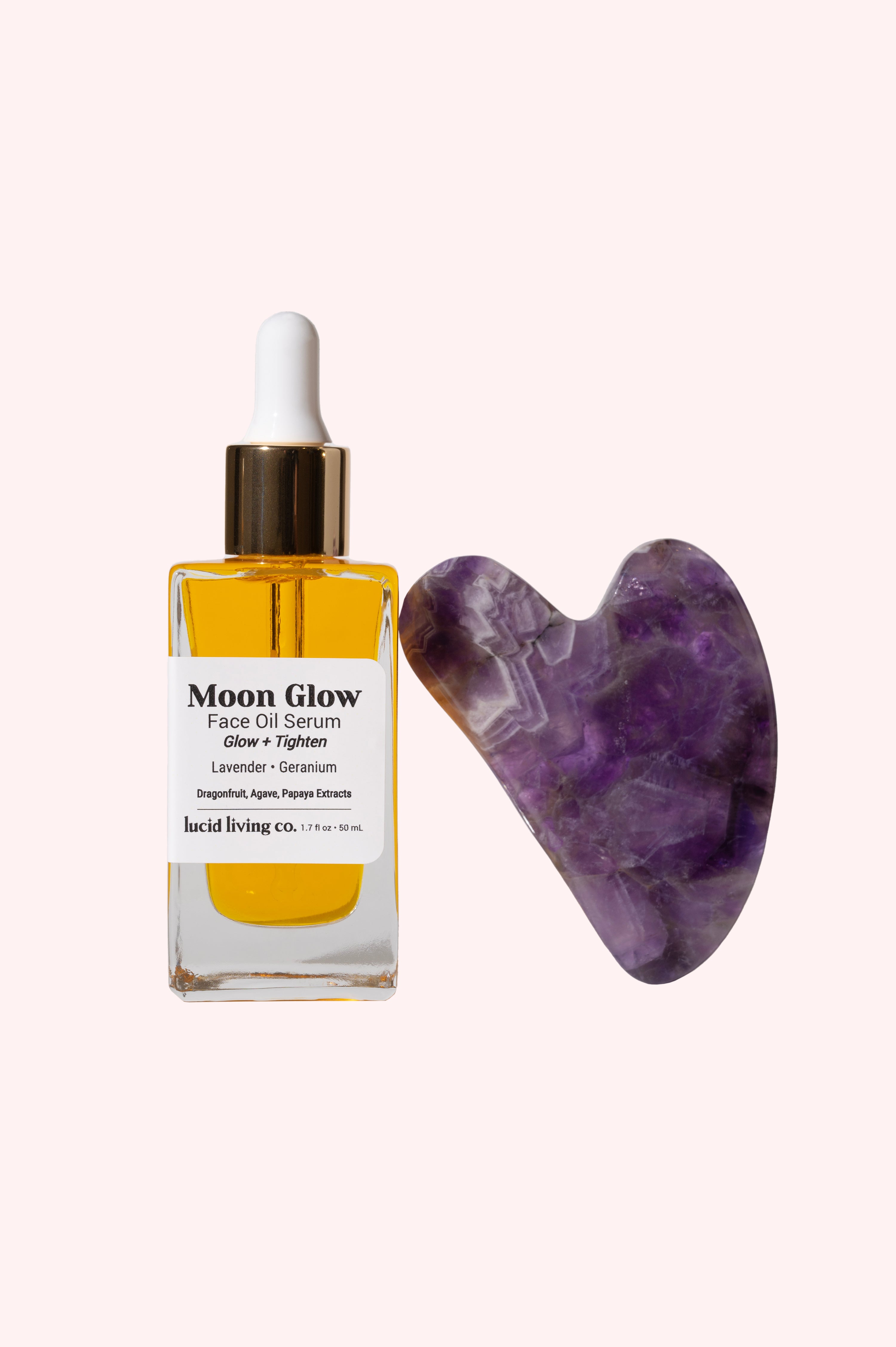 First Gua Sha!!
I was surprised by how GOOD the face oil was because I'm not use to my serums being fragrant without causing my skin to break out. But I smelt good and no breakout. (But less is more with this baby. )
As for the gua sha: the instructions on the page are great, but as a visual learner, I had to do my research. But that's my only complaint and it's very picky of a complaint. Otherwise 10/10 baby's first gua sha and im happy it was paired with the Moon Glow Serum. 🌙
Will definitely have to try out the morning serum next time.