Mushroom Maiden Soothing Salt Soak
Regular price

Sale price

$25.00
Mushroom Maiden smells like a secret cottage garden in full bloom. Lush blackberries grow wild to honor the darker side of Venus, while night-blooming jasmine curls around the wrought-iron fence to draw psychic powers to the beholder. Sweet orange blossoms uplift you with their brilliant blooms, a symbol of prosperity and committed love. 
How To Use

Crystal Inside

Ingredients
Pour desired amount into warm/hot running bath water. Sit back and relax as the bubbles arise and enjoy this soothing salt soak 
Comes with a Garnet crystal hidden inside. Known for bringing out your creative energy. It is the embodiment of fire, creativity, passion, and strength.
Dead Sea Salts, Epsom Salts, Hibiscus Flowers, Kaolin Clay, Sodium Lauryl Sulfoacetate, FD&C Colorants, Mica, Fragrance Oil (Phthalate Free)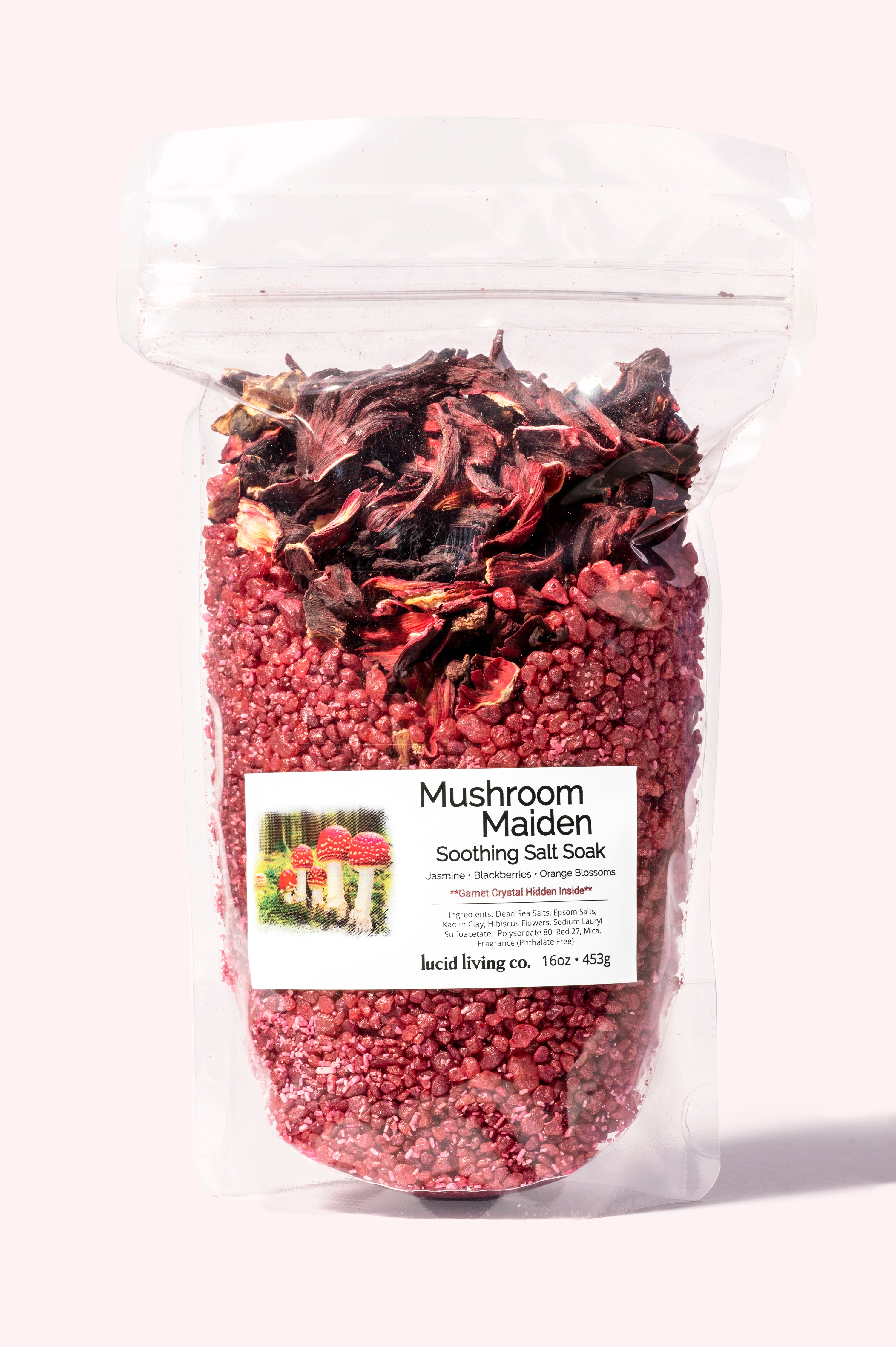 Mushroom Maiden Soothing Salt Soak
My fave!
Mushroom maiden is prob my favorite lucid product . The scent is just gorgeous . The dried hibiscus leaves . And the stunning color. All around perfect . Oh and the garnet meatball inside is just the cherry on top.
Will Be Ordering Again
I ordered a couple of these salt soaks since it's the only way my muscles can relax after a long day at work. The scent fills my entire bathroom and I feel at such peace the minute my body hits the water. Thank you!
We are so happy to hear you loved Mushroom Maiden, it's one of our personal faves here too! It also means the world to us that we are able to bring you peace after a long day! Thank you for the love + support, Tiara!
little mushroom maidens 🍄
this salt soak is one of my absolute favorites (along with pure desire) and i feel like an ancient crystal priestess living in a cottage tending to my garden and crystals with magic and the help of my familiars.
Really like it
Not as fruity as i thought it would be. Nice balance between fruity and flowery…idk of floral is exactly the word I would use but it's a really lovely scent either way.