Witch Bitch Autumn Coconut Milk Bath
Regular price

Sale price

$23.00
Crystal

How To Use

Why It's Special

Ingredients
Hidden inside is a mystery pumpkin crystal! 🎃
Open the bag and pour the magic directly under running hot water. Sit back and relax while the bubbles arise, swish the water to see Witch Bitch Autumn's full effect!
🥥 Coconut Milk Powder - Coconut contains moisturizing properties that leave the skin feeling soft and supple.
🌿 Kaolin Clay -  The cleansing properties of Kaolin Clay can remove dirt and impurities from your skin pores that lead to acne breakouts. It is gentle to use and cleans your skin without making it dry and dull.
Sodium Bicarbonate,  Citric Acid, Coconut Milk Powder (contains zero milk protein = 100% Vegan), Kaolin Clay, Roses, Chrysanthemum Flowers, Propylene Glycol, Sodium Lauryl Sulfoacetate, Fragrance (Phthalate Free), FD&C Colorant, Mica
**All of our products contain herbs and essential oils. Please consult a physician before use if you are pregnant, breastfeeding, or suffering from a health condition.**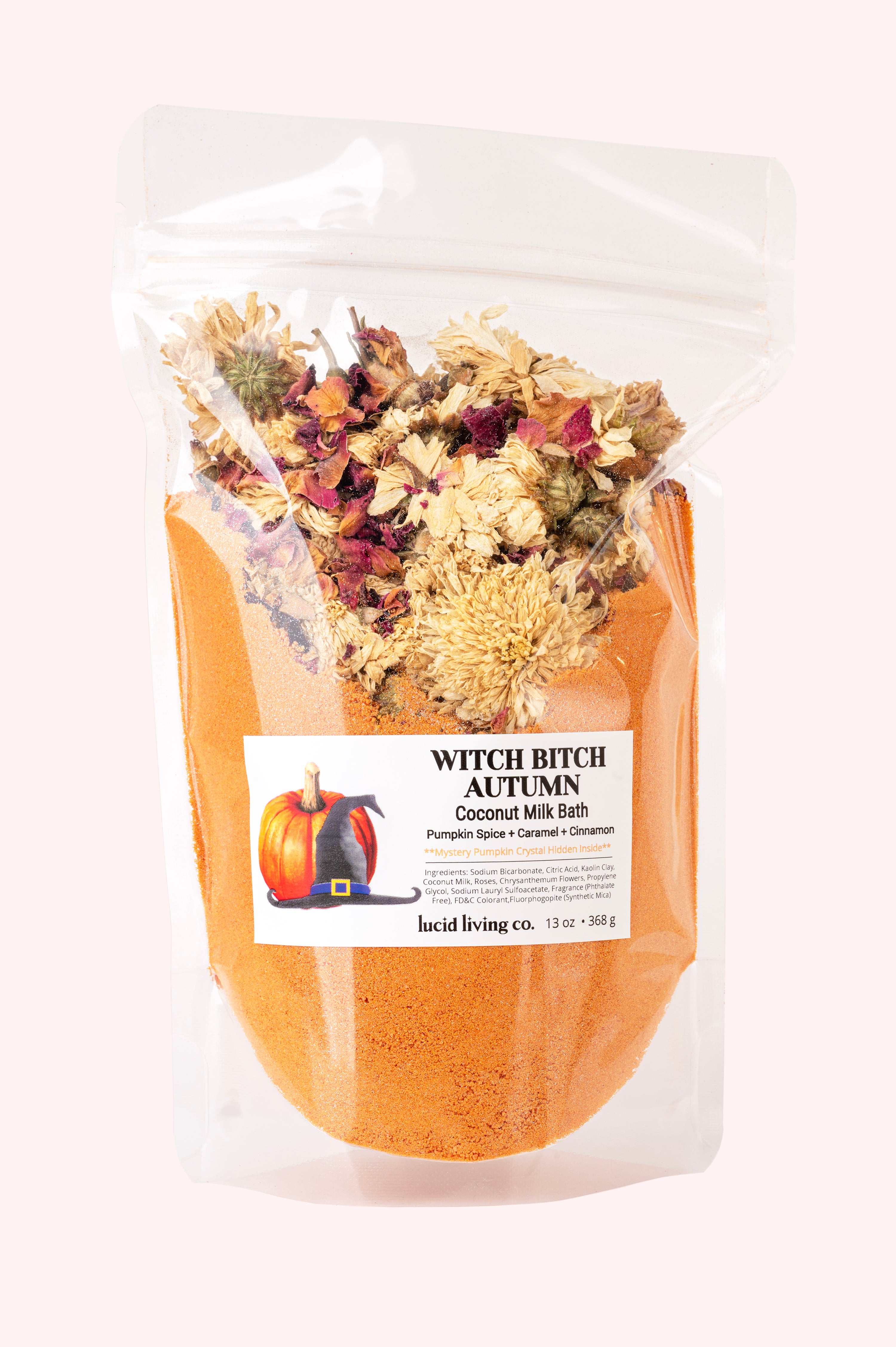 Witch bitch
My favorite scent so far 🥲
Smells DIVINE!
Taking a bath and surrounding myself in the smell of witch bitch autumn makes my autumn loving heart extremely happy.
Smells like heaven
The only problem with this is that it smells so good that I want a slice of pumpkin pie to appear in the bath tub with me. I like to use a little bit at a time and use throughout the winter.
The Best Autumnal Treat
I literally wait all year for this, and as soon as it's released I buy several to last for as long as possible. Witch Bitch Autumn is my FAVORITE. It smells divine! I always get a couple to gift out to friends and family, and a few to keep for myself. My most anticipated fall release, every year!
Smells divine
This coconut milk bath is perfect when you want to relax and take a bath on cold autumn nights. It smells like the most amazing pumpkin pie.