BLOOD BATH Bath Potion
Regular price

Sale price

$23.00
Pour into the depths of the darkest tombs and catacombs of killers and unholy creatures, of nightmares and terror! It is a bath unlike any other! This artesian brew will transform your warm waters into a ghastly, blood red that's not for the faint of heart but great for the skin with activated charcoal epsom salt if you can handle the horror!
Scent
Beyond the crimson tides you'll enjoy the soothing scents of bay leaf and smoky tobacco to ease your mind while the red waves surround you.
How To Use

Crystal

Skin Benefits

Ingredients
Pour desired amount directly under running warm/hot water. Sit back and relax while the bubbles arise. Watch the colors blend together and swish the water around to see the full effect! 
Hidden inside of this Blood Bath is a mystery crystal!
🧂 Epsom Salts - Great for relaxing sore and achy muscles, also helps with relieving headaches and migraines because of the muscles relaxation.
🥥 Coconut Milk Powder - Coconut contains moisturizing properties that leave the skin feeling soft and supple, which can also help reduce irritation.
🌿 Kaolin Clay -  The cleansing properties of Kaolin Clay can remove dirt and impurities from your skin pores that lead to acne breakouts. It is gentle to use and cleans your skin without making it dry and dull.
Sodium Bicarbonate, Citric Acid, Coconut Milk Powder (contains zero milk protein = 100% Vegan), Kaolin Clay, Epsom Salts, Sodium Lauryl Sulfoacetate, Fragrance (Phthalate Free), Propylene Glycol, FD&C Colorants, and Activated Charcoal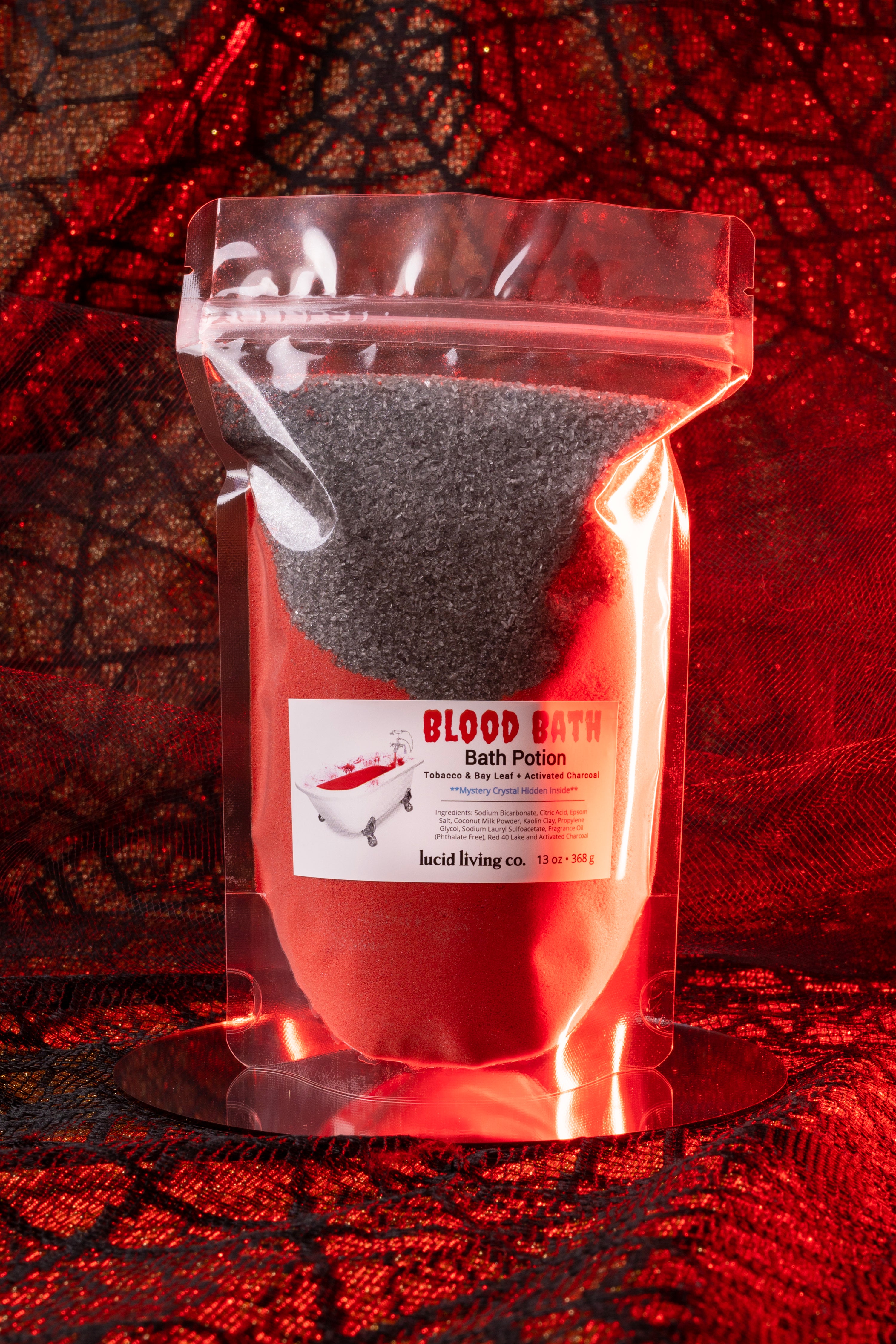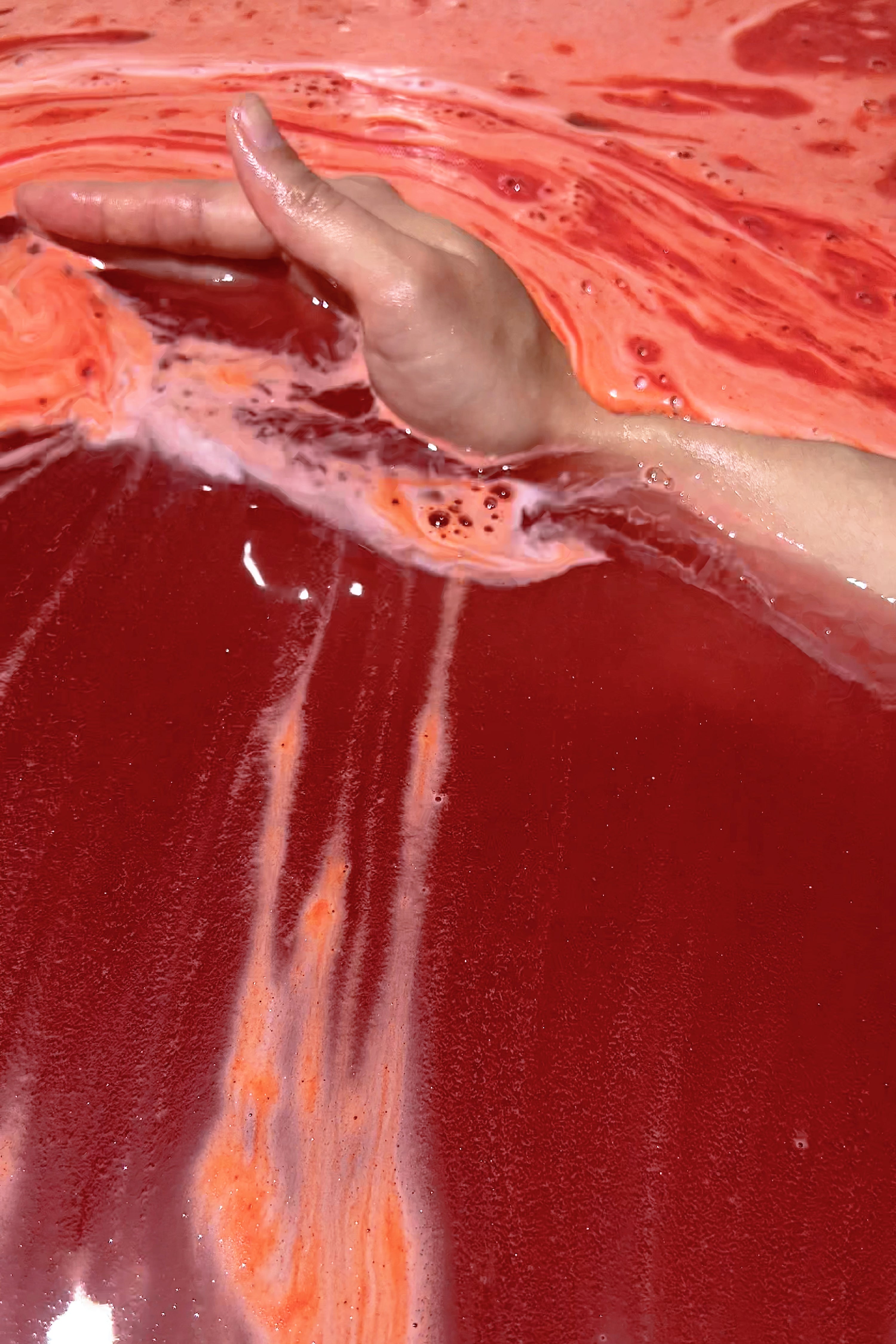 Bloody good
I love the scent of this bath potion. I'm a sucker for tobacco scents and this was just balanced so nicely. It really does look like bloody water too!
New FAVE
Literally have to fight with my children over this one. Red is my toddler's favorite color, and every single time I prep one of these baths he tries to steal it from me. I let it slide somwtimes, because then he smells amazing for snuggles for the rest of the day!
Bloody beautiful!!
I posted a video of the beautiful red water in the bathtub on my IG and Lucid reposted it! 🥰 I've been recommending them to everyone who will listen! 🤣 5 stars every time!
Incredible Product
Everything about the "bath bomb in a bag" concept is amazing. This was the first one I tried out of the 3 I got and wow. It's got about 3 baths worth of product in it. It's also fun because you don't know which pour is going to pop the crystal out of the bag so that's a fun surprise game to play with yourself. Also pairing their body/bath oil with these is really nice. You can have fun with scents and really customize your experience with them. Really love this company.
Blood bath potion
This product is amazing !! Absolutely love it . Smells good and very Halloweeny